The USS Lexington
Learn about the history of the USS Lexington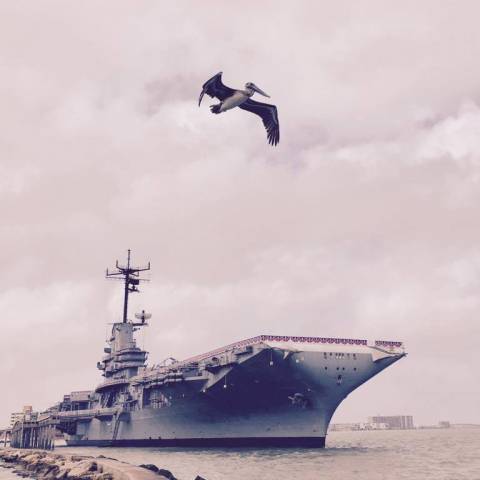 The USS Lexington also known as "The Blue Ghost" arrived in Corpus Christi beach in 1992 in order to preserve its memory as one of the nation's most important lines of defense after nearly 50 years. Today, it stands as a symbol of freedom, but also as a naval aviation museum, educational facility and a popular Corpus Christi area attraction.
The Museum & Ship
Tour the USS Lexington in all of its glory with your choice of a self-guided tour or a guided tour. The self-guided tours includes options of five different routes (Flight Deck Tour, Foc'sle Tour, Gallery Deck Tour, Lower Decks Tour, and Hangar Deck Tour) that cover 100,000 square feet and eleven decks. Take your time and explore at your own pace to learn the history behind the USS Lexington. Each tour offers a unique experience and features interactive displays.  
For a more enriching experience, try one of the guided group tours. The Flight Operations tour allows you hands-on experience as an aircraft carrier pilot, the Hard Hat tour gives you access to 15 different areas that are not accessible to the public and for those seeking a scare, the Paranormal Tour navigates you through spaces where paranormal activity has been spotted.
Other Attractions at The USS Lexington
Aside from the ship itself, the USS Lexington also offers many different attractions and educational opportunities. Test your skills at the Lockdown on the Lex - an escape room on USS Lexington Museum or navigate your own fleet of warships at one of the Virtual Battle Stations. If you enjoy scale models, the Warbirds and Warships Scale Model Gallery is a five-year in the making exhibit that showcases over 440 pieces on display.
Visit the USS Lexington
The USS Lexington is open seven days a week, year-round except for Christmas and Thanksgiving. Hours are 9 a.m - 6 p.m. Memorial Day through Labor Day and Spring Break and 9 a.m. - 5 p.m. Labor Day through Memorial Day. Tickets can be purchased on-site.
Address:
914 N. Shoreline Blvd.
Corpus Christi, Texas 78402
Visit the USS Lexington Website for More Info
Contact Starkey Properties so we can help you plan your dream Port Aransas vacation. Our properties are located near all of the main activities and attractions on Mustang Island. Browse our vacation rentals in Port Aransas today.