Plan the Perfect Corpus Christi Day Trip
Use Our Guide to Get the Most Out of Your Day Trip to Corpus Christi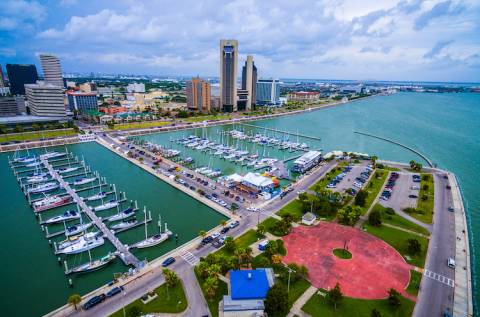 Sitting along Corpus Christi Bay, Corpus Christi features beautiful beaches, cultural attractions, and protected nature preserves. This small Texas city along the coast is a great place to visit while you're staying in Port Aransas. Corpus Christi is a short drive and a great place to spend the afternoon.
There is something for everyone here, whether you want to meander the miles of protected shoreline and parks or discover something new at one of the region's museums.
How Far is Port Aransas from Corpus Christi?
Downtown Corpus Christi is about 45 minutes away from Port Aransas. Drive along the scenic Highway 361 through Mustang Island State Park and over the John F. Kennedy Memorial Causeway. You can also hop aboard the Port Aransas Ferry for a scenic ride to Corpus Christi. 


Corpus Christi Sightseeing
There are tons of things to do and see in Corpus Christi! From historical monuments to children's museums to nature preserves, Corpus Christi is a destination for all ages and interests. 
Visit the USS Lexington for a peek back in time. This naval aviation museum is a popular attraction with guided and self-guided tours, interactive exhibits, and more. It's a great place for history buffs, but even if you're not, the ship is sure to impress. 
Families must make a stop at the Corpus Christi Museum of Science and History. Boasting 45,000 square feet of exhibition space, the Corpus Christi Museum of Science and History has interactive exhibits that kids as young as 3 years old will love. Learn about shipwrecks, interactive sciences, indigenous cultures of the region, and the ecological footprint of the Texas Gulf Coast. 
The Texas State Aquarium is a popular attraction that both adults and kids will love. This museum features exhibits to learn about the local flora and fauna, specifically the inhabitants of the many waterways in the region, and beyond. There are even opportunities to get up close with animals, like dolphins and sloths. 
Corpus Christi is also home to two protected nature preserves, including the Padre Island National Seashore and the Mustang Island State Park. Both of these preserves feature pristine beaches and trails for hiking and biking. You can also go kayaking, canoeing, boating, fishing, surfing, and more.