A Comprehensive Guide to Fishing in Port Aransas
Learn About the Types of Fishing, Best Spots to Cast a Line, and What You Will Commonly Find in Port Aransas Waters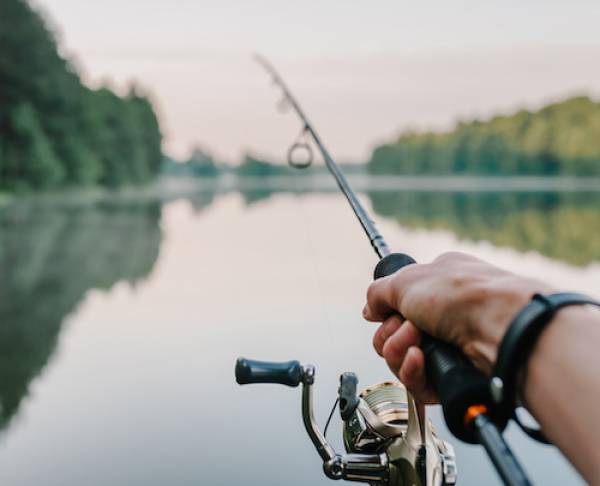 Port Aransas is the fishing Capital of Texas. There are many different places and ways you can go fishing in Port Aransas, from deep sea charters to casting a line off the pier. Beginners and experienced anglers alike will find Port Aransas fishing to be some of the best in the country.
Whether you're considering a fishing day on your vacation to Port Aransas or you're planning a dedicated fishing trip to the Texas Coast, use our Port Aransas fishing guides to help you with all the details.
Types of Fishing
There are four specific types of fishing available in the Port Aransas area. Bay fishing, pier/jetty fishing, deep sea fishing, and tournament-style fishing. Each style of fishing offers a unique experience and a chance to catch a variety of fish.
Pier and jetty fishing are simple and there are four public spots in Port Aransas where you can fish all hours of the day. You will need to bring your own equipment and bait, but there are plenty of rental companies where you can get a hook and line. Hook and line fishing is the only acceptable type of fishing on Port Aransas piers and you must be sure to always be watching over your fishing pole.
Bay Fishing is also very popular due to the abundance of shallow waters around Mustang Island. Corpus Christi Bay, Aransas Bay, and Baffin Bay are just a few of the spots that you'll visit on a bay fishing excursion in Port Aransas. Island Queen is one of the most trusted companies in Port Aransas that offers bay fishing charters that include all of the necessary equipment.
Deep Sea Fishing excursions are for the most extreme and dedicated anglers. Port Aransas Fishing charters offer trips that can last 3.5 hours to 12 hours, and beyond. Captain Kelly's Deep Sea Headquarters is one of our local favorites, which offers both bay fishing and deep sea fishing experiences as well as dolphin tours. You'll also get the necessary equipment for your trip with this company. The professionals at Captain Kelly's makes it easy for even beginners to enjoy a day of deep sea fishing.
The most serious fishing enthusiast will love that Port Aransas is host to more than 20 fishing tournaments each summer. Some of the biggest and longest-running events include the Texas Women Anglers Tournament, the Deep Sea Roundup, the Coastal Conservation Association's Take a Kid Fishing Tournament, and the Annual Fishing Break.
Where to Fish
While experienced charter companies know where to find the best fish and when there are plenty of land-based spots to cast a line in Port Aransas as well. Horace Caldwell Pier, Roberts Point Park, Padre Island National Seashore, and Mustang Island State Park are a couple of the popular spots to fish on land in Port Aransas.
Horace Caldwell Pier is one of the most popular spots because of its massive size. This pier goes out about 1,280 feet into the Gulf of Mexico offering plenty of space for anglers to set up for the day. This pier is open year-round, 24-hours a day. There is a limit of three rods per person and it's a small fee to fish here.
Since it's a state park, Mustang Island State Park is free to fish and you don't need a license. The Fish Pass Jetty in the park is actually two jetties that offer deep near-shore waters to cast a line into the Gulf of Mexico.
Types of Fish in Port Aransas
You'll find different types of fish throughout the Port Aransas area depending on the type of fishing you're doing and the time of year that you're going. Some of the most popular catches when you're going pier fishing include speckled sea trout, jackfish, cobia, black drum, red drum, king mackerel, tarpon, and a variety of sharks, like tiger sharks, bull sharks, and more.
If you're going deep sea fishing, blue and white marlin, mahi mahi, tunas, and amberjacks are very common. Other common catches include snapper, wahoo, mackerel, cobia, grouper, rainbow runner, jack crevalle, and sharks. June 1 to August 1 is the easiest time to fish, as most fish are active during this time except for amberjack.
Those who are going bay fishing are likely to find redfish, speckled trout, flounder, sheephead, drum, and more.
You can always call your charter company ahead of time to find out what is in season while you're in town, or check the Texas Parks & Wildlife fishing report, which is updated regularly with local conditions.
Port Aransas Fishing Guidelines and Regulations
It is required that everyone must have a fishing license if you're fishing in the public waters of Texas. A one-day, all-water license for non-residents is $16 as of January 2020. Anglers can take advantage of free fishing at state parks in the area and on man-made structures within state parks. Also, the first Saturday in June each year is a free fishing day where you can go fishing anywhere recreationally for free.
There are also regulations in place regarding daily bag and size limits for specific species of fish.
Read about other regulations and license requirements.
Plan Your Port Aransas Fishing Vacation
If you're ready to pack your bags and head to the water for a fishing excursion, book one of our Port Aransas vacation rentals today. Our rentals are located in the most desired communities, offering amenities like a private pool, pet-friendly rentals, beachfront homes, and much more. Contact us directly for more information to have our team help you find the perfect place to call home while on vacation in Port Aransas, Texas.