The Best 4 Places to Enjoy the Outdoors in Port Aransas
Here are the 4 Wilderness Areas and State Parks in Port Aransas You Need to See
The beaches in Port Aransas are excellent to say the least, but there's much more nature to discover here than just idyllic coastline. Outdoor enthusiasts will find plenty of spaces to explore nature in Port Aransas.
Spaces such as Mustang Island State Park, Padre Island National Seashore, San Jose Island, and the Port Aransas Nature Preserve are all here to see and enjoy at Port A. Here's everything you need to know about our local wild and scenic areas.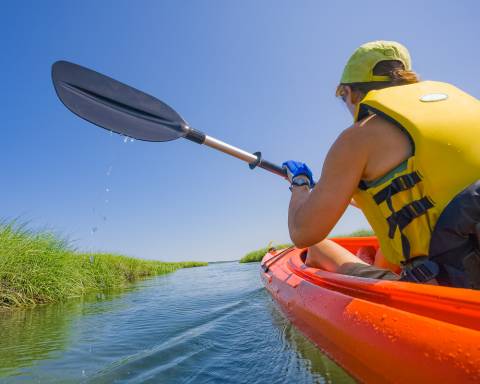 Mustang Island State Park
Port Aransas is located on Mustang Island, and the island's state park is just a 20-minute drive from city center. Mustang Island State Park is a wonderful natural space to take the family for a day, or to just explore on your own. 
Some of the more popular activities within the park are hiking, bird-watching, fishing, and kayaking. However, you can also swim, surf, or go geocaching within Mustang Island State Park. An activity we'd recommend is checking out some of the 20 miles of kayaking routes (AKA the Mustang Island Paddling Trail) that surround the island. You can rent kayaking gear and/or take a guided kayak tour in Port Aransas with outfitters like Nature Trails Kayaking.
On the wildlife front, Mustang Island State Park is rich with opportunities to spot exotic marine, mammal, and bird species. Approximately 400 species of bird call the park home at various times of the year, making this one of Port A's best birding spots. You also have the chance to spot sea turtles near shore, and white tail deer around the park.
Mustang Island State Park is open daily from 8 AM - 5 PM. Adult entry fares cost $5/person, and children 12 and under can enter for free. It's recommended that you book a reservation for your day passes ahead of time so that you can enter when it best suits your schedule. If you have the Annual Texas State Park pass, that will also work in lieu of a standard day pass.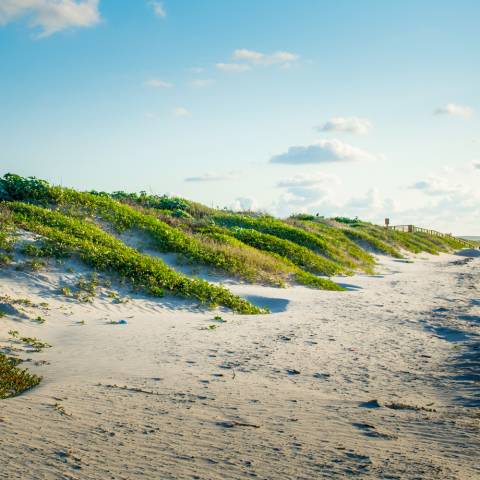 Padre Island National Seashore
The Padre Island National Seashore is a protected area that includes 66 miles of coastline, coastal dunes, prairies, and wind tidal flats. Padre Island itself also separates the Gulf of Mexico from the Laguna Madre, one of only six lagoons in the world that are hypersaline (saltier than ocean water).
As far as activities go, there are many similar things to do on Padre Island National Seashore as there are in Mustang Island State Park. One thing you can do which is somewhat limited at Mustang is drive a 4WD vehicle down the 60 miles of South Beach to the Port Mansfield channel. Along the way, you'll see more remote sections of the island from your vehicle. See this Padre Island Driving page on the NPS website for more information, rules, and regulations.
Regarding wildlife, Padre Island is another area rich in birding opportunities. You can also go boat or shore fishing in the Gulf of Mexcio or Laguna Madre. However, perhaps the coolest thing to see on the wildlife front is a sea turtle hatchling release. There are several hatchling releases for Kemp's Ridley Sea Turtles throughout the summer that are a treat to see!
Padre Island National Seashore is open every day, 24 hours a day. However, the entrance station, where entry passes are sold, has variable hours. Pass prices also vary based on the type of vehicle you enter Padre Island with as well as how many days you wish to access the area. Check Operating Hours and Entrance Fees before visiting the area.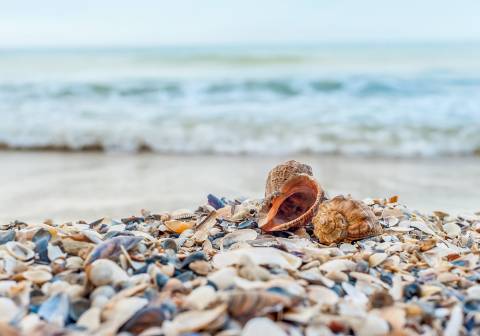 San José Island
A quick ferry ride from Fisherman's Wharf at Port Aransas is San José Island. Compared to Mustang Island State Park, this island is a more tranquil wilderness area to visit.
Although San José Island has no facilities and less space set up for varied activities, it's still a fun treat to spend the day here. The island boasts 21 miles of unspoiled shoreline that's ideal for quiet strolls, picnic lunches, and finding unique seashells.
In addition to the relaxing coastline, San José Island is an exceptional spot for shore fishing. Just beneath the surface offshore there are over 600 native fish species cruising around that you can catch.
The cost of riding the ferry to and from San José Island is $18/person for those aged 13 and up. For children between the ages of 9-12 the cost is $9/person, and children 5 and under can ride for free. When you go, make sure to bring enough food, water and other supplies you may need since there are no stores on San José Island.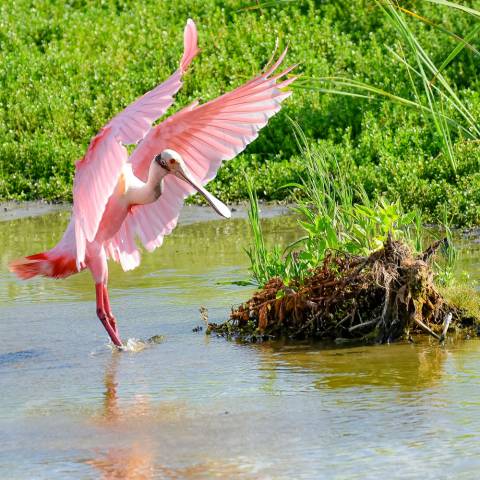 Port Aransas Nature Preserve
The Port Aransas Nature Preserve is one of the most popular spots to visit in the city. It is broken up into four unique sites, and its mission is to "preserve history, protect habitat, and promote harmony with nature." The preserve is open every day from sunrise to sunset, and it is free to visit. Here is a breakdown of each of the preserve sites.
Wetland Park
Wetland Park isn't much more than a small boardwalk with a gazebo at the end to overlook tidal flats. However, there are still many wading and shore birds to view from the peaceful vantage of said boardwalk. It's a fine place to stop by and just enjoy the calm, comfortable conditions of Port Aransas.
Charlie's Pasture
Charlie's Pasture encompasses 1,217 acres of upland, tidal flat, marsh, wooded, and estuarine habitats. It is one of the few contiguous tracts of undeveloped land in any coastal plain, and it supports a diverse range of plant and animal life.
The main entrance for Charlie's Pasture is adjacent to the Corpus Christi Ship Channel. There is a pavilion at the site which overlooks tidal flats and serves as the trailhead for a fun paved nature trail. You can also meet at the pavilion on Tuesdays for Nature Preserve Yoga and guided Nature Walks.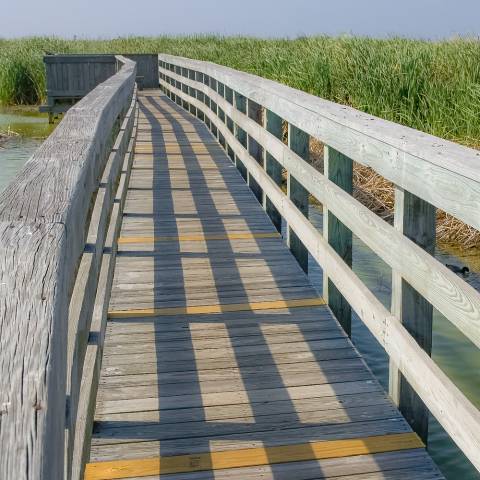 Joan and Scott Holt Paradise Pond
The 2-acre Joan and Scott Holt Paradise Pond is one of only a few wooded natural freshwater ponds on Mustang Island. During fall and spring migrations, many species of neotropical migratory birds call this pond home, making it ideal for bird-watching during those seasons.
You can observe the pond and surrounding wooded habitat from boardwalks and seating areas. One thing to note is that many of the trees which once created a canopy over the pond died following Hurricane Harvey in 2017. Since then, hundreds of native trees and shrubs have been planted to restore the area back to its former glory.
Leonabelle Turnbull Birding Center
The Leonabelle Turnbull Birding Center features a native pollinator garden, a 750-ft boardwalk with an observation tower, and a second boardwalk that extends to the southern shoreline to connect with Charlie's Pasture. 
From the boardwalks and tower, you can view the impressive freshwater marsh habitat and its host of diverse wildlife. Like other sites at the preserve, you can see a ton of bird species here. As the site's name would suggest, this is one of the best places to go for birding in Port Aransas. Those with vigilant eyes can also spot a large American Alligator (nicknamed "Boots") who patrols the marsh.
To discover more exciting indoor and outdoor attractions at Port Aransas, head over to our Experience Guide and Attractions pages. Also, be sure to book your stay in Port A with Starkey Properties. We have the best vacation rental accommodations around, and we would be thrilled to host your vacation to our beachfront home!